C1 Truck Driver Training - Indianapolis
Committed To High-Quality CDL Training In Indianapolis
Our reputation is built on a commitment to high-quality CDL training. At C1 Truck Driver Training, there is no experience required for our CDL training program. While attending our Indianapolis campus, we will prepare you for an exciting new career as a professional truck driver in about 4 weeks.
C1 Truck Driver Training has been training new truck drivers at our Indianapolis campus longer than any other Indianapolis truck driving school. Since 1987, C1 has been providing CDL training and setting the standard for premier truck driver training in Indiana. At C1, it's all about your future as a truck driver. Our caring and experienced staff are focused on making America's highways safe. Your CDL training will focus on safe driving techniques and proven defensive driving strategies to keep you and other drivers safe.
C1 is the largest trucking driver training school in Central Indiana. Just because we train more truck drivers than anyone else in Indiana doesn't mean you won't receive a personalized training experience. Our modern classrooms provide a comfortable learning environment. The 12 paved acres of the Indianapolis driving range gives new truck drivers plenty of room to practice driving skills before the street training begins.
Our training staff includes professional truck drivers and administrators with years of experience in the trucking industry. The CDL trainers are not only professional truck drivers; they have a desire to share their knowledge and experience to help new truck drivers learn the right way to drive.
Full CDL Training in About 4 Weeks
Four weeks from now, you could be a truck driver. At our Indianapolis truck driving school, you'll learn and refine all the skills you need to obtain your Class A CDL and hit the road. C1 Truck Driver Training has been providing training to new truck drivers for over 30 years. With a couple of decades of experience in running a truck driving school, we've been able to refine the process of truck driver training. Our customized CDL training program will give you everything you need to pass the CDL skills test.
Our Indianapolis truck driving school is the largest in the city. You'll go through intensive training with experienced CDL training instructors and get behind the wheel of industry standard tractor trailers. Together, we'll help you become a safe, professional driver.
Classroom Training
The classroom portion will include lectures and presentations covering a wide range of topics. Educating safe truck drivers is C1's goal, so students will be instructed on proper logging procedures, trip planning & map reading, hazardous materials regulations, accident prevention, and safety and mechanical issues. In addition to the classroom instruction, students will apply the techniques explained in the classroom to the driving range and street exercises. Every student will practice all the skills necessary to safely operate a tractor trailer.
Driving Range Training
From the classroom, you'll move out to the C1 driving range for behind the wheel training. The Indianapolis driving range provides ample space to learn how to safely maneuver a tractor trailer through a series of driving exercises.
The driving skills emphasized at our Indianapolis training campus include:
Shifting techniques
Coupling/uncoupling the trailer
Backing skills
Left and right turn techniques
Pre-trip inspection of the truck
The CDL trainers will emphasize the driving skills required to pass the CDL skills test at the end of the training program.
Road Training
When you've learned the basics of driving a tractor trailer, the next phase of CDL training begins with driving on local roads and highways around metro Indianapolis. This phase of the training puts everything you've learned about driving a truck together so you can apply it to real world driving. With your CDL instructor in the passenger seat guiding your way, you'll navigate through roads and practice such things as defensive driving and accident prevention, shifting techniques, left and right turns, and mechanical operation of the vehicle. C1 puts a focus on commentary, so your truck driving training instructor will help guide you as you talk your way through the constant decision-making involved with driving a tractor trailer.
Passing the CDL Skills Test & Our CDL Ace Club
Our entire staff at C1 Truck Driver Training in Indianapolis puts a lot of effort into working with each student to ensure he or she is successful in passing the CDL skills test. We recognize those students who are exceptional with our CDL Ace Club. In order to become a "CDL Ace" a driver must pass the state CDL skills test on the first try. "Acing" the CDL test on the first try is a big accomplishment that we recognize with our very special Red C1 Graduation hat with "CDL Ace" stitched in gold on the side.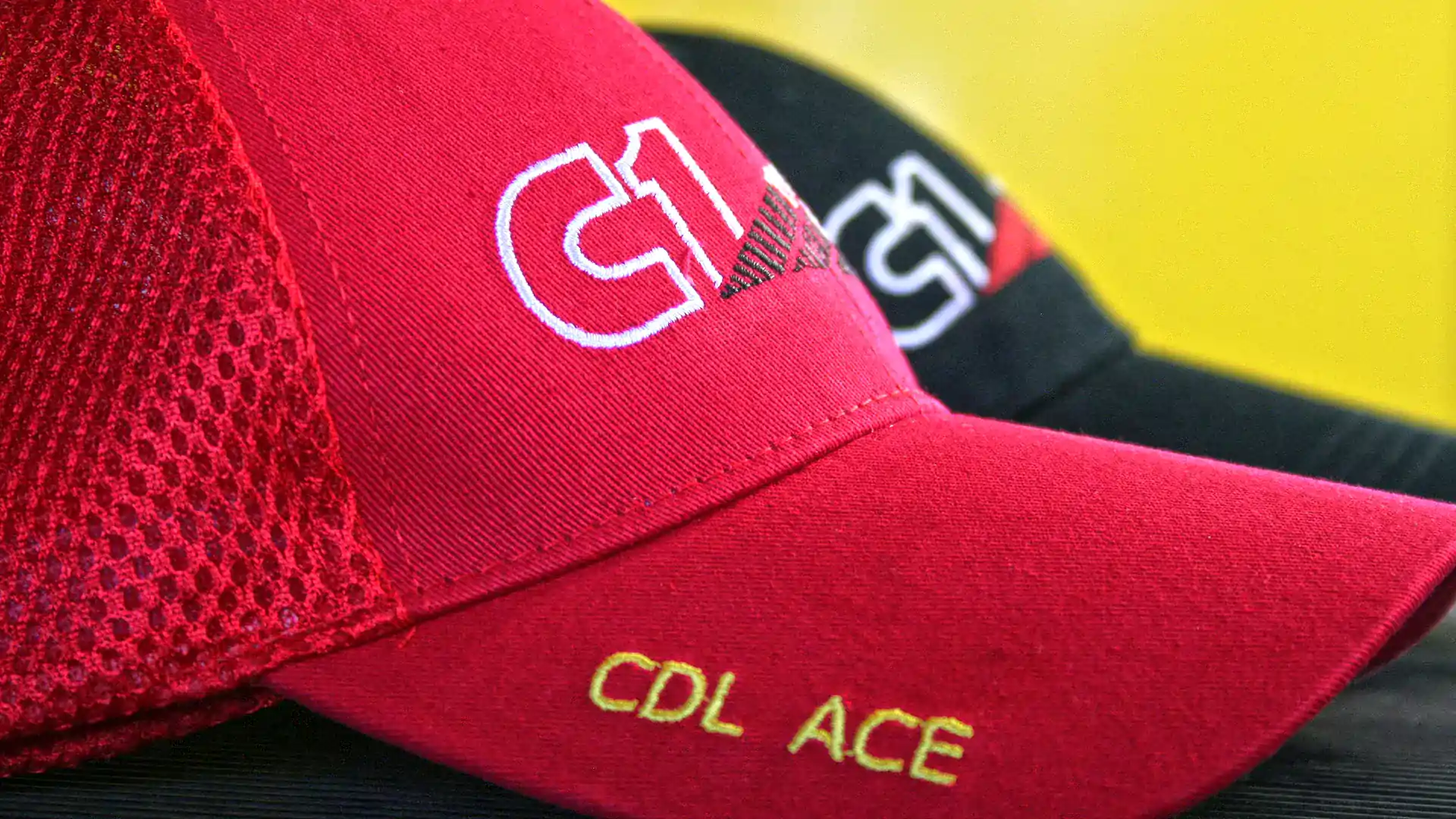 Indianapolis CDL Training Center
We're the professionals in truck driver training. That's why the Indianapolis CDL training campus offers a driving range with over 12 acres of flat asphalt pavement. The training center driving range provides ample space and safety for practicing low speed truck driving exercises. The ample size and configuration of the driving range provides trucking students plenty of space to master the driving skills necessary to operate a tractor-trailer. Some of the CDL skills that can be practiced on the driving range include turning, backing, shifting and parking. The Indianapolis CDL training center driving range has a perimeter lighting system to allow for training in nearly any weather condition or any time of day.
Indianapolis Campus Highlights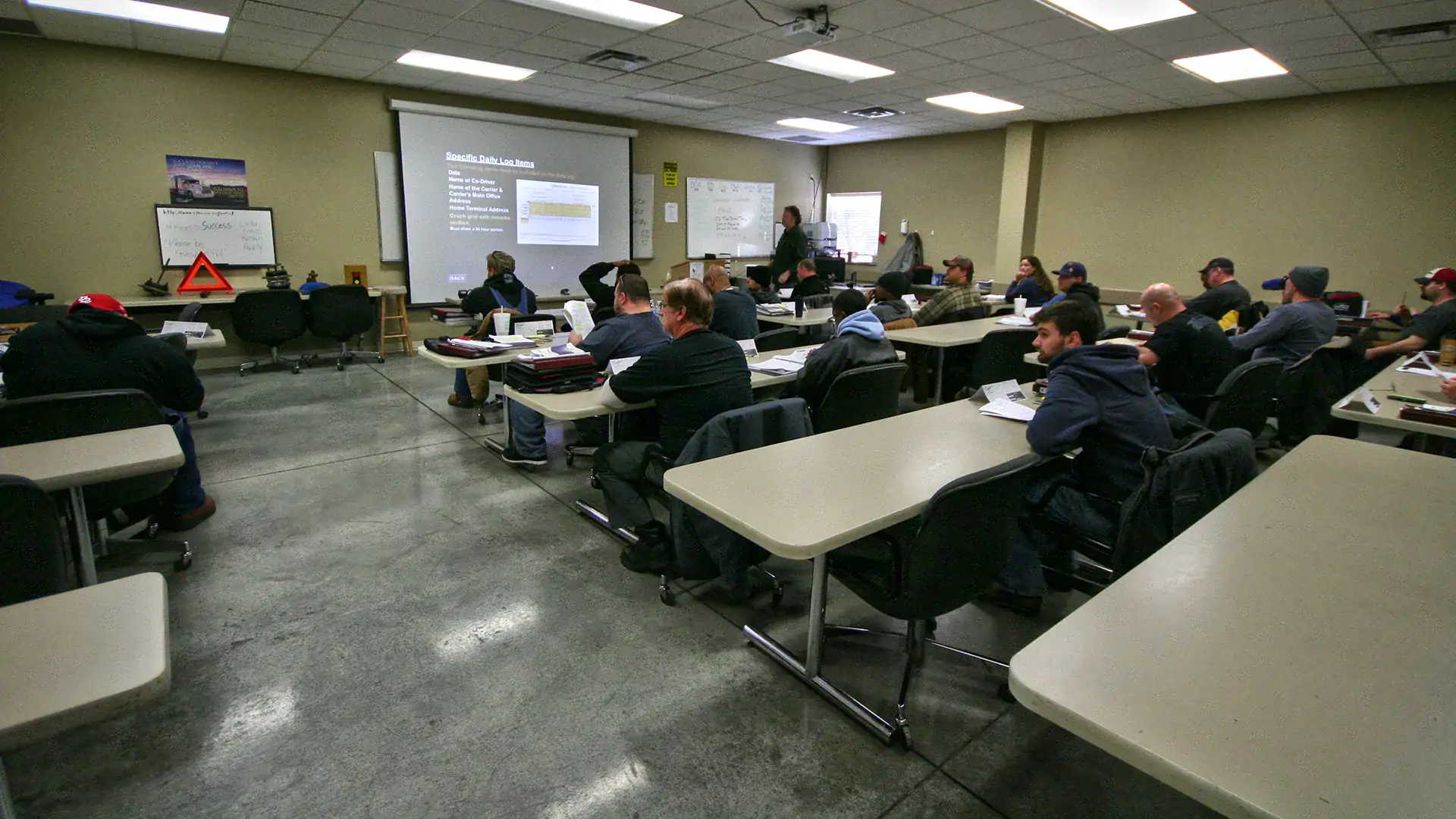 C1 is located in a modern, state of the art facility. Our Indianapolis CDL training center was designed from the ground up with only one purpose: training truck drivers. The Indianapolis campus has the extra features that many truck driving schools ignore. In 2006, C1 moved into a brand new, custom-designed classroom and administration building. Our Indianapolis CDL training center features classrooms with multi-media technology, a truck components lab, and a comfortable student lounge.

Our CDL training curriculum uses leading technologies to help prepare new drivers. C1 uses a custom-programmed multimedia classroom lecture program. To supplement classroom lectures, the CDL training staff has developed a comprehensive student training manual. The C1 Indianapolis training department combines years of professional truck driving experience and an expert knowledge of the trucking industry to create an unparalleled CDL training program.
CDL Training Trucks
A big factor in successfully learning to drive a tractor-trailer safely is training on properly maintained equipment. That's why C1 Truck Driver Training Indianapolis campus' entire truck fleet is late-model Freightliner conventional tractors. The trailers have simulated loads of freight which help a student learn to control loaded vehicle in various driving situations.
We're CDL Training Professionals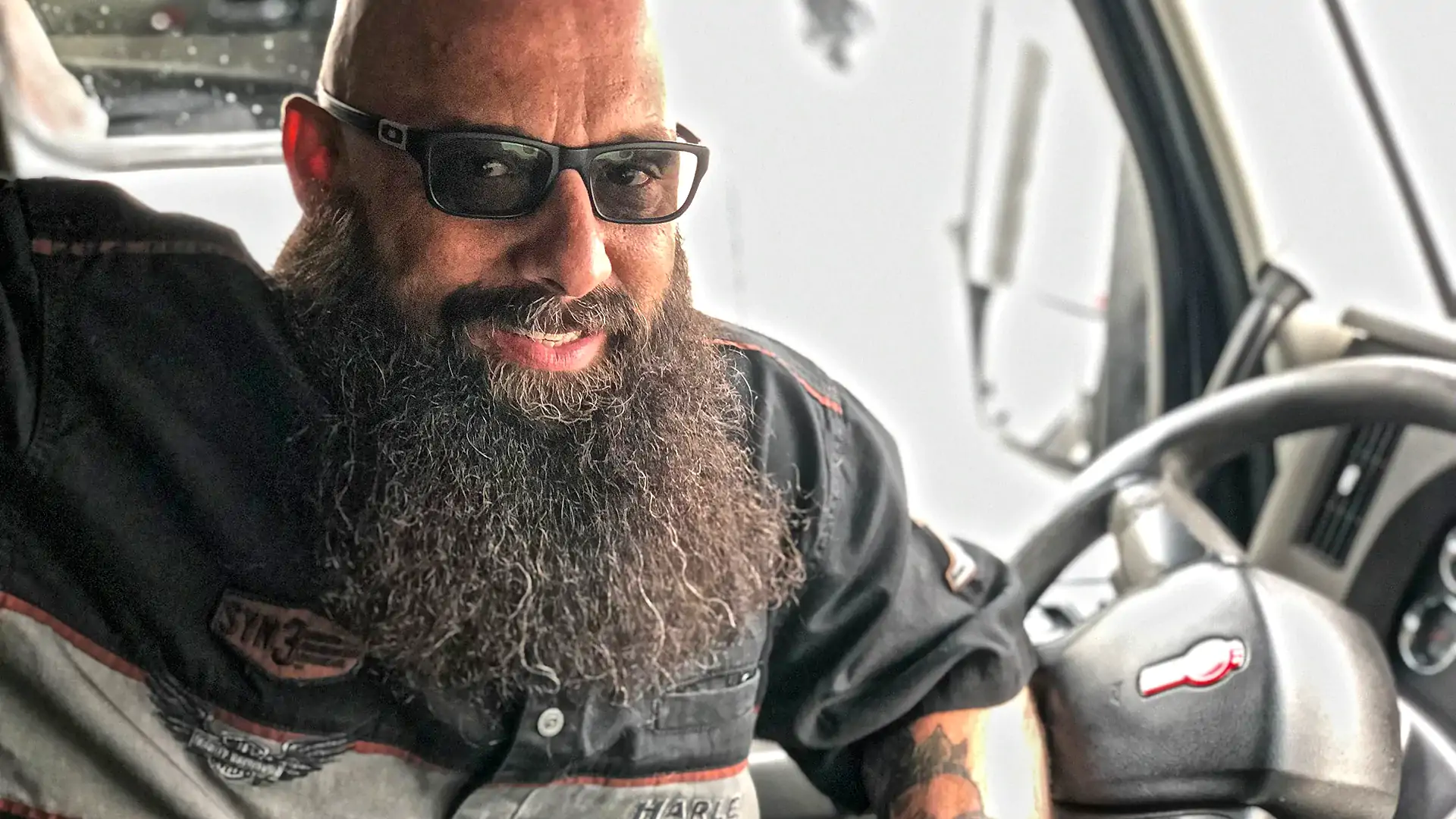 A truck driving school is about more than just classrooms and trucks, it's about people. And at C1 Truck Driver Training Indianapolis, we have assembled a dedicated team of trucking professionals. C1 employs truck driving instructors with ample years of driving experience. Each one of the driving instructors has completed C1's own extensive instructional program on effective CDL training techniques. This program ensures each member of the C1 training team is training students in a consistent manner that meets our high standards.

Successful truck driving training starts with right teaching. Years of providing top notch CDL instruction means we have the people with the right skills and attitude. C1's dedicated and compassionate staff ensures every training experience is a positive one.
The C1 Training Difference
What makes the CDL training at C1 so effective? It's the years of experience and proven methods that are backed by our history of helping thousands of drivers obtain a CDL.
Deciding which trucking school to attend for CDL training is a big decision. In fact, your truck driving career depends on the right training to teach you how to drive safely. At C1 Truck Driver Training, you can learn from the pros and get your CDL in about 4 weeks.
If you are considering CDL training in Indiana, turn to the professionals at C1 Truck Driver Training. We've trained new drivers across central Indiana. The Indianapolis trucking school serves the following communities:
Indianapolis, IN
Bloomington, IN
Kokomo, IN
Columbus, IN
Lafayette, IN
Muncie, IN
Terre Haute, IN
Anderson, IN
Lebanon, IN
To learn about the enrollment process, call us at 1-866-822-9805 or check out our Admissions programs.