C1 Truck Driver Training - Springfield
CDL Training in Springfield, MO
Built on a foundation of over 30 years of CDL training experience, C1 Truck Driver Training brought our high training standards to Springfield, Missouri in 2000. With regional campuses around the US, C1 is the established authority in truck driver training. Helping folks become professional drivers is our business. At our Springfield campus, we will prepare you for professional truck driving career in about 4 weeks.
With trucking such a vital part of southwest Missouri's economy, C1 Truck Driver Training is proud to support safety-conscious CDL training.
Success In About 4 Weeks
Our 4 week long truck driver training teaches the CDL driving skills to students with various backgrounds and education levels. Every week, we start a new class full of folks who have never even sat inside an eighteen wheeler. Our no nonsense approach to teaching truck driving skills gives student drivers the knowledge and confidence to succeed.
Springfield CDL Training Overview
Ask a C1 Truck Driver Training graduate where they went to truck driving training, and they'll happily tell you. That's because the truck drivers that go through our truck driving training find that the experience they got becomes invaluable - from the knowledge learned, to the relationships made.
At our Springfield truck driving training facility, we'll provide you with a concise, proven curriculum containing the most up to date information available, as well as hands-on training and personal attention.
CDL Training Classroom
Your truck driving training experience has to start somewhere, and at C1 we begin in a classroom setting. The CDL classroom is enhanced by hands on activities and multimedia presentations. CDL instructors that lead the lectures have years of experience as truck drivers and understand the industry. In the truck driver school classroom, you'll learn map reading, logging, trip planning, and other essential CDL skills.
Driving Range Training
C1 Springfield offers a well-organized, closed driving range where students can learn and practice basic maneuvers with a semi in a safe, supervised environment. Students will learn shifting techniques, coupling the trailer, backing skills, left and right turn techniques, and the pre-trip inspection of a truck. The CDL instructors on the driving range emphasize the skills needed to pass the CDL skills test at the end of truck driving training. Instructors will work with students on specific skill sets until they're confident. Training trucks in the C1 Springfield fleet are well-maintained, conventional vehicles like the ones you'll work with when you're out on the road.
Road Driving
Once you learn the basics, it's time to put them to practice on local roads and interstates. When you hit the road with a CDL instructor by your side, you'll put everything you've learned so far into practice while working on defensive driving skills, turning techniques, and using commentary methods while driving. You'll get ample time behind the wheel as you get more comfortable and confident controlling the truck. Safety and confidence go hand-in-hand, so C1 works hard to make sure that your truck driving training experience is positive and helpful.
The Professionals in CDL Training
While you're at truck driving training, you'll have constant access to CDL training and trucking industry professionals and veterans to answer questions along the way. They'll work with you to refine your skill set and focus on the CDL skills test. After four weeks of training, C1 will administer a test similar to the CDL skills test to let you know that you're ready to move on - or show you where you need to practice a little bit more. C1 Springfield's main focus is for you to become a safe, professional truck driver, so they'll work with you on any areas you might need. At C1, you'll always know where you stand in the process of becoming a professional truck driver.
Truck driving training is a big challenge, but when you go to C1 Springfield, you'll find that our staff of full-time CDL instructors, paired with our customized curriculum and detailed training procedures will definitely make your truck driving career more than just a dream. The passion of our truck driver school team is unmatched by other schools in the industry. You aren't just a number at our Springfield truck driving training school - you're the future of the truck driver industry, and we want you to succeed.
Springfield CDL Training Center
You want exceptional truck driver training. You want the best instructors in the industry, the most carefully assembled curriculum, and the most behind-the-wheel opportunities you can get. That's just what C1 Springfield has to offer. With ample years of experience training new truck drivers, we've become the very best in truck driver training. C1 Truck Driver Training in Springfield will provide you with the perfect facility to complete your truck driver training.
Our goal is for you to become an excellent, safe new truck driver, so our C1 Springfield truck driver training campus includes a closed driving range to practice driving maneuvers such as backing and shifting. The well-organized range area provides plenty of opportunities to refine your skills under the watchful eye of a CDL instructor. Beyond the range, you'll get time behind the wheel of a tractor-trailer and apply your new skills in real-world truck driving experiences with a truck driver training instructor in the passenger seat. The fleet of training trucks at C1 Springfield consists of well-maintained, conventional tractor-trailers. As a truck driver student, you'll get hands-on with the very same kind of equipment they'll use once they have their CDL and go to work.
Springfield Campus Overview
CDL training students at the Springfield C1 campus take advantage of the state-of-the-art trucking school's training technology. The campus includes interactive multimedia-based classroom lecture to make learning easier and simpler. The on-site computer lab provides students with the latest self-guided study for the CDL permit test. C1 Truck Driver Training brings together technology and experienced driver trainers to offer the best in CDL training.
Inside the administration building at our Springfield truck driver training school, you will find a CDL classroom equipped with multimedia presentations, hands-on activities, and an experienced truck driver training instructor to lead lectures. Truck driver students learn the essentials of truck driving, from map reading and trip planning to accident prevention and pre-trip inspection. The truck driver training facility also offers a student lounge and study area, as well as direct access to advisors to answer questions along the way.
When you attend C1 Springfield, you'll get access to the most advanced truck driver training available in the industry. We pride ourselves on our custom truck driver training curriculum, and friendly team of knowledgeable staff and experienced CDL instructors. Our CDL training instructors have years of truck driving experience, allowing them to connect with you and teach you the habits of a safe truck driver. Get personalized truck driver training from the passionate, friendly staff at C1 Springfield, and get on your way to becoming a professional truck driver.
Springfield CDL Training Professionals
At C1 Springfield, you'll discover a professional, helpful staff of advisers, administrators, and CDL instructors. While the equipment and facility is very important, the best truck drivers will always come from passionate trainers and instructors.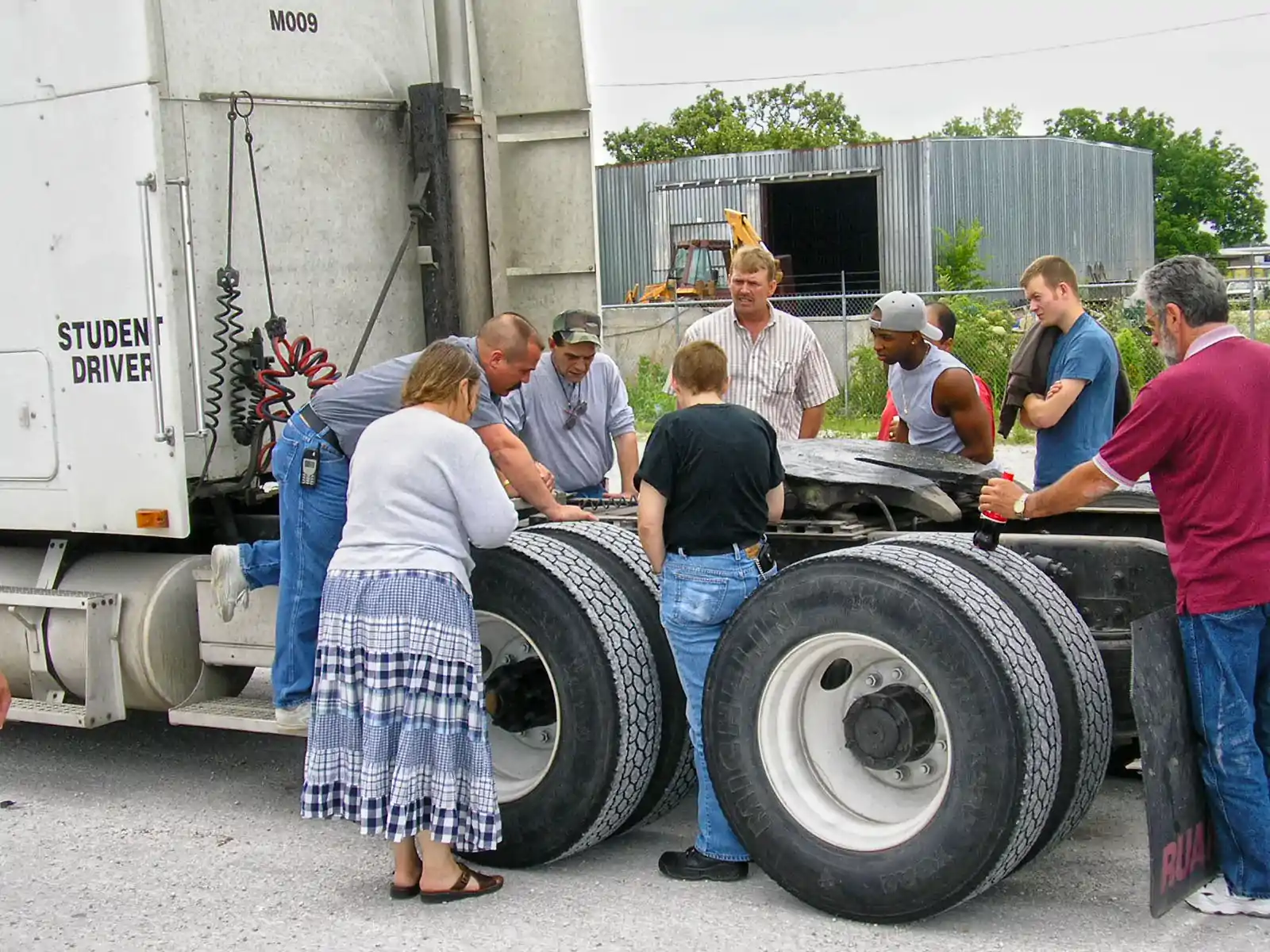 Our Springfield truck driver school has experienced CDL training instructors, each of which has ample years in the trucking industry. While the main goal is making sure our students learn everything needed to pass the Missouri CDL test, we also take pride in going beyond that by preparing them for what lays ahead out on the road. Every member of the C1 team is thoroughly knowledgeable of the entire truck driving industry, with our CDL instructors undergoing additional training to assure consistency and effectiveness. Our truck driver school strives to understand the personal situation of each student that passes through its doors and tailor the program to their needs.

With C1 Springfield, you discover not just a CDL training facility, but a group of passionate, caring people who want to help you succeed in your career goal of obtaining a CDL. The team behind the doors at our Springfield truck driver school has the right attitude to work with you on refining your skills and knowledge. C1 has been in operation for more than twenty years, and that has given us the opportunity to refine our process of choosing a great staff.

If you want a successful career in truck driving, you have to consider the importance of the people you meet at your truck driver school. At C1 Springfield, you can rest assured that you're not only learning everything you need to know, but you're learning it the right way. Then when you hit the road, you'll be considered among the best truck drivers in the industry. When you graduate from C1 Springfield and have your CDL in hand, you'll be ready to take on whatever the truck driving industry has for you.
Get Trained By Veteran CDL Drivers
Our team of CDL instructors and administrative staff offer years of industry experience to make your training successful. The CDL instructors have a passion and desire to share their knowledge about a successful truck driving career and help you learn "the right way" to be a truck driver.
For more information about CDL training, call 1-866-822-9805.